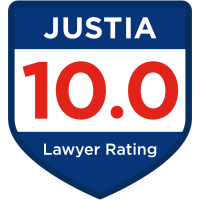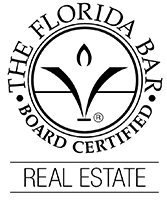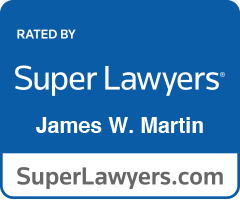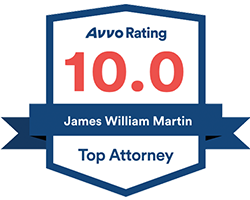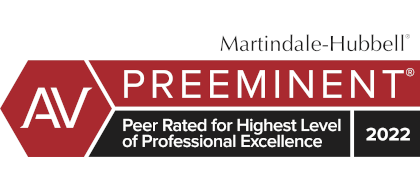 Ratings and Board Certification
St. Petersburg Pinellas County Florida attorney James W. Martin holds the following highest attorney ratings and board certification: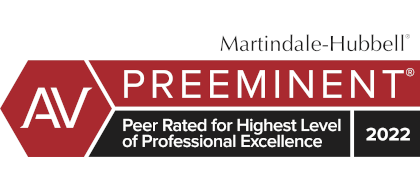 "AV Preeminent®: The highest peer rating standard. This is given to attorneys who are ranked at the highest level of professional excellence for their legal expertise, communication skills, and ethical standards by their peers. … For more than 130 years, Martindale-Hubbell has been evaluating attorneys for their strong legal ability and high ethical standards through a Peer Review Rating system. Prior to the 1887 edition of Martindale's American Law Directory, which was the first publication to provide such ratings to attorneys, there was no way of truly knowing if the lawyer you were considering to do business with was trustworthy, ethical, or skilled in the legal field. Today – Martindale-Hubbell continues to provide verified ratings for attorneys based not only on their legal ability and ethical standards as judged by their peers, but also based on reviews from their clients. While the criteria and format of the Peer Review Rating system has evolved since the 1800's – the goal of Martindale-Hubbell ratings remains the same: to help keep the public informed when making the decision to do business with an attorney or law firm."
---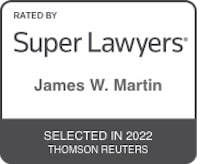 "Super Lawyers selects attorneys using a patented multiphase selection process. Peer nominations and evaluations are combined with independent research. Each candidate is evaluated on 12 indicators of peer recognition and professional achievement. Selections are made on an annual, state-by-state basis. The objective is to create a credible, comprehensive and diverse listing of outstanding attorneys that can be used as a resource for attorneys and consumers searching for legal counsel. Since Super Lawyers is intended to be used as an aid in selecting a lawyer, we limit the lawyer ratings to those who can be hired and retained by the public."
---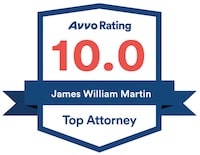 "The rating is calculated using a mathematical model, and all lawyers are evaluated on the same set of standards. The Avvo Rating cannot be bought. At Avvo, all lawyers are treated equally. We don't play favorites, and attorneys can't pay us to improve their ratings. It was developed by legal professionals and people looking for legal services. The model used to calculate the rating was developed with input from hundreds of attorneys, thousands of consumers, and many other legal professionals who deeply understand the work attorneys do. We created the Avvo Rating to reflect the type of information people have identified as important when looking to hire an attorney. It's as simple as counting to 10. Ratings fall on a scale of 1 (Extreme Caution) to 10 (Superb), helping you quickly assess a lawyer's background based on our rating."
---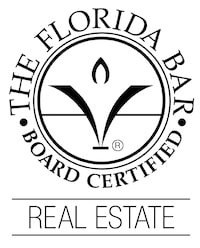 "Board certification recognizes attorneys' special knowledge, skills and proficiency in various areas of law and professionalism and ethics in practice. Established in 1982 by the Florida Supreme Court, board certification helps consumers identify specialists in various areas of law. Board certification is Florida's official, independent determination of a lawyer's expertise to practice in a specialty field of law. It is the gold standard for Florida lawyers, representing a recognition by a lawyer's peers that they have attained a level of professional expertise in their chosen fields."
---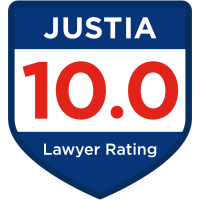 ---
If you have the need for a St Petersburg Pinellas County Florida attorney, you may use the contact form below or call James W. Martin directly at 727-821-0904 or email him at jim@jamesmartinpa.com for a free initial consultation.
Get in Touch
Fill out the contact form or call
(727) 821-0904
to schedule your free consultation.
1

Free Initial Consultation

2

Over 40 Years of Experience

3

Pinellas County, Florida Probate Attorney